Descripción
AeroCoach 3D sintered angled spacers are designed for increased comfort with higher hand positions – including angled washers to ensure that bolt heads have maximum contact area with your arm rests.
Angled spacers and washers are made from 3D sintered nylon for maximum strength. Please note bolts are not included.
WHAT SIZE SHOULD I CHOOSE?
10deg angled spacers = for extensions of 15-25deg rise
15deg angled spacers = for extensions of 30-35deg rise
20deg angled spacers = for extensions of 40deg or greater rise
PLEASE NOTE – UCI REGULATIONS RESTRICT ARM PAD ANGLE TO 15DEG ONLY
ANGLED SPACERS ARE PLACED DIRECTLY UNDERNEATH THE ARM RESTS, NOT AS PART OF THE EXTENSION STACKS – please see the diagram below: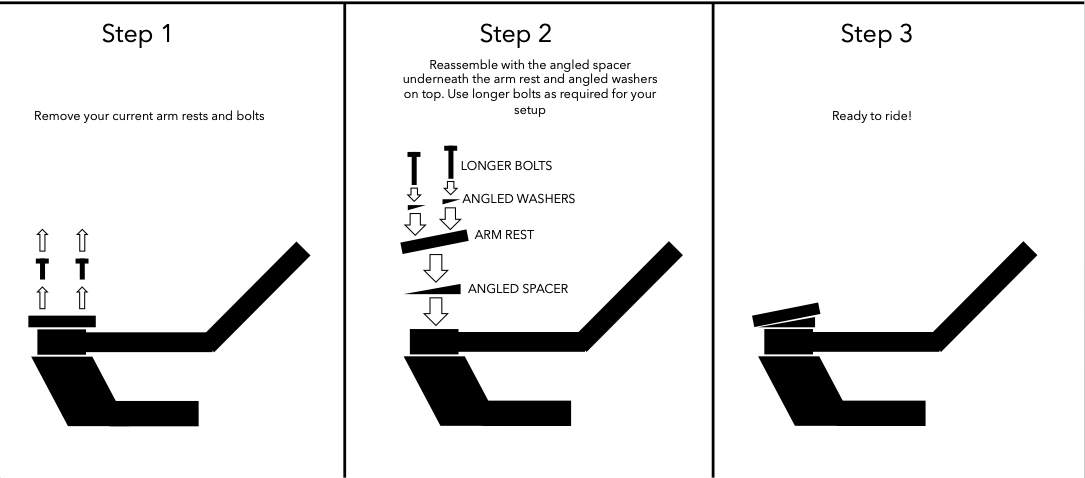 ---
Two bolt options are available – the most common type are the standard spacers for bolts that are spaced inline with the extension (ie the same plane as the top tube). Horizontal spacers are only needed for bolts that follow the same plane as the base bar: this includes but is not limited to Trek/Bontrager, Profile Design (including Scott), Specialized Shiv Tri (not TT) and others. Please remove your arm rests to check bolt location and whether you require horizontal or standard spacers.
These can be used with both Align Wing arm rests as well as other manufacturers' arm rests. Please note that flat headed (not tapered or V headed) button head bolts must be used with the angled washers (see photo for example).
WHAT'S INCLUDED

2 angled spacers
4 angled washers
Instructions